ATHICFF for Professionals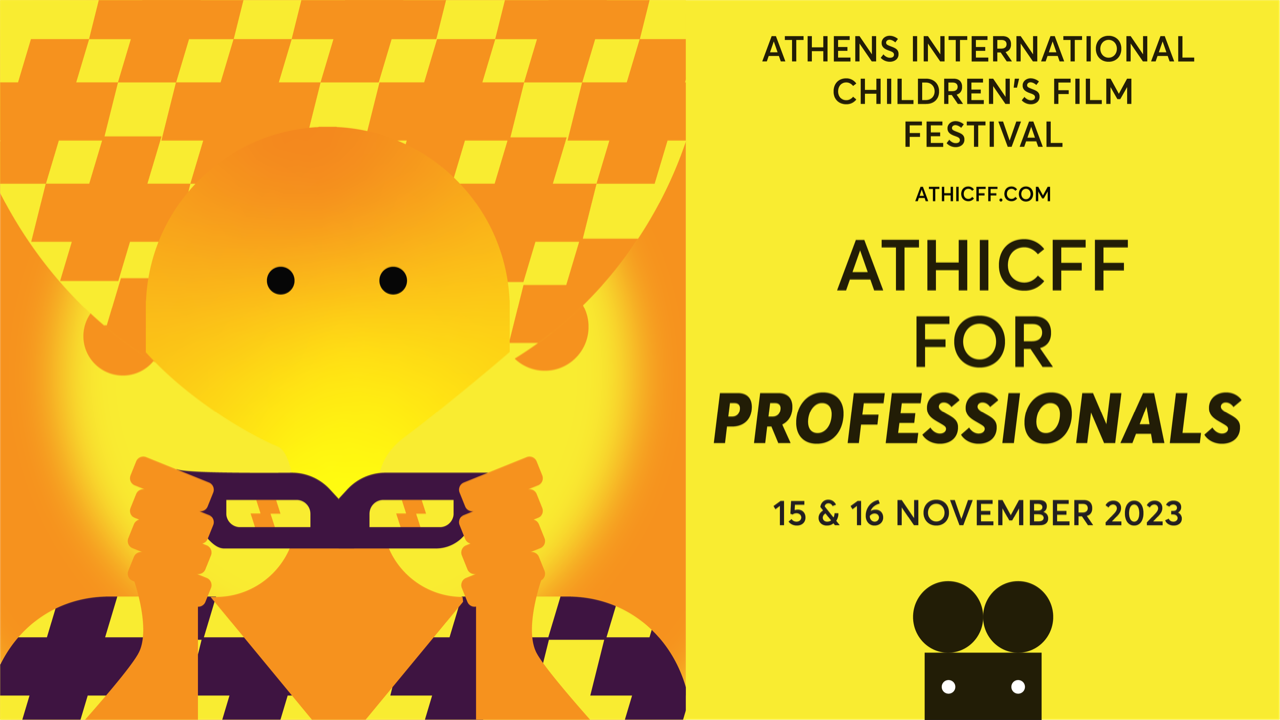 ATHICFF, dedicated to showcasing exceptional audiovisual content for children and young audiences initiates ATHICFF for professionals, an event unfolding over the 15th and 16th of November 2023, in Athens, Greece during the 6th Athens International Children's Film Festival.
ATHICFF is launching a series of initiatives and events this year aimed at professionals in the audiovisual field, in an effort to support and promote the production of children's content in Greece.
ATHICFF for Professionals is scheduled for November 15th and 16th, featuring a series of seminars and workshops tailored for emerging professionals in the industry. This event will encompass the presentation of case studies and exemplary practices, focusing on co-productions within Southeastern European countries. Additionally, it will facilitate networking sessions, fostering connections between Greek content producers for children and carefully selected European peers and sales agents, with the overarching goal of promoting collaborative initiatives.
SCHEDULE
Scriptwriter's Playground
Date: Wednesday November 15th // Time: 14:00-20:00 // Venue: Megaron, The Athens Concert Hall, Educational Programmes Hall 
This is an educational workshop specifically designed for the screenwriters and directors of the three (3) projects that reached the top of the Screenplay Development Competition, organized by the festival in collaboration with the Cinekid Festival. As these projects are in early-stage development, the participants will be able to partake in workshops focused on enhancing the primary characters in their scripts, in addition to receiving practical guidance on fundraising and sustaining their endeavors in the children's film industry.
Filmmakers and mentors will collaborate to refine the project's concept to resonate with both local and international audiences.
Participating projects:
– PARACOSM, feature film, Ioanna Piata, (scriptwriter)
– THE CITY OF LOST ROBOTS, feature film, Fotis Dousos and Alexandros Raptis (scriptwriters)
– THE T3ST, feature film, Alexandros Tsilifonis (scriptwriter)

The three mentors:
Milan Stojanovic, Producer, Sense Production (Serbia)
Konstantinos Kontovrakis, Producer, Heretic (Greece)
Georgina Kakoudaki, Dramaturg (Greece)
Greet the Greeks
Date: Thursday November 16th // Time: 11:00-14:00 // Venue: Stratos Vassilikos Athens Hotel
Pitching forum and individual consultations for Greek filmmakers, particularly producer/writer/director teams, who are actively involved in the development of Greek content targeting children and youth.
The festival has extended invitations to selected industry decision-makers, which encompass not only producers keen on co-productions but also sales agents. The event's agenda for the day comprises a pitching session, succeeded by individual one-on-one meetings with the international guests.
The objective is to showcase projects that are at an advanced stage of development, poised for potential international co-productions and seeking opportunities for global sales.
Participating projects:
NICO FINDS A TREASURE – Anemon Productions, Konstantinos Fragkopoulos
BUGBOY – Anemon Productions, Lucas Palaiokrassas
NINE LIVES LEFT – Wild at Heart, Zacharias Mavroeidis
WHEN THE STATUES WENT AWAY – Argonauts Productions, Iris Baglanea
DIFFERENTLY ALIKE – Simio Production, Demetrios Patrikios
TETTIX – Open Borders Productions, Stella Serefoglou
The experts
Tine Klint (CEO, Level K), Gennarino Romano (International Sales Manager, Dandelooo Productions), Jo-Anne Blouin (Director, FIFEM), Milan Stojanovic (Producer, Sense Production), Amila Čirkinagić, (Industry Manager, BUSTER Children's Film Festival) and Pavla Kubeckova (Producer and Script Consultant, Nutprodukce) – these five seasoned experts with extensive experience in sales and distribution will engage with Greek filmmakers who are already in the process of developing their projects.

Case Studies: The Art of co-producing children's feature films with an international audience in mind
Date: Thursday November 16th // Time: 16:00-18:00 // Venue: Stratos Vassilikos Athens Hotel
Within the festival section "Our Neighborhood," which showcases films from Mediterranean, Balkan, and Southeastern European countries, two highly esteemed producers known for their award-winning children's films will delve into the dynamics of co-production. This conversation provides a unique platform for Greek directors and producers to explore the potential for collaboration with their neighboring countries and discover the existing possibilities.
The speakers
Tine Klint, CEO of Level K (Denmark), sales agent of "Tony, Shelly and the Magic Light", Filip Posivac (Slovakia, Hungary, Czech Republic, 2023) screening at the festival this year.
Milan Stojanovic (Sense Production, Serbia), producer, "How I Learned to Fly", Radivoje Andric (Serbia/ Croatia/ Bulgaria/ Slovakia, 2022)
Moderator, Amanda Livanou, producer of Neda Film and president of the Athens International Children's Film Festival. Producer of the animated TV series Mr. Paper.