2nd Script Development Contest by ATHICFF & Cinekid Festival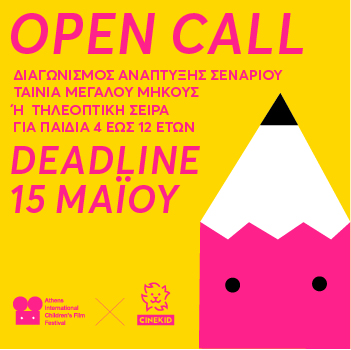 The Athens International Children's Film Festival is collaborating for the second consecutive year with the Cinekid Festival, the largest children's film festival in Europe, in one of the largest international script development programs for children's content, the Cinekid Script LAB.
The two festivals invite Greek creators (screenwriters, directors, writers) to the 2nd Screenplay Development Competition. The competition calls for feature film or TV series ideas/scripts, with children's content for ages 4-12. The deadline for submitting proposals is May 22nd, 2023.
The Screenplay Development Competition is one more initiative from the Athens International Children's Film Festival to develop and strengthen children's film and television content in Greece and is taking place with the support of the Greek Film Centre and the boutique film house Heretic.
"At the Cinekid Script Lab, you don't just attend a screenplay development workshop, you feel like you're at the heart of the film industry for children. It's a workshop where all participants are screenwriters, just like all tutors are active screenwriters and therefore, there is focus on scriptwriting for young audiences", says last year's winner, Zacharias Mavroeidis, who received the scholarship for Cinekid Script LAB 2022 with the screenplay 9 LIVES LEFT.
The screenplays will be evaluated by a five-member committee, consisting of:
Myrto Delivorias – Illustrator, painter
Zacharias Mavroeidis – Film director
Konstantinos Bourounis – Deputy Director of Program, ERT
Stella Serefoglou – Film director, drama educator
Angelos Tsaousis – Film director, cinematographer, producer
* This contest is open to Greek projects only.
** Find out more about the contest, the application process and the T&C here (in Greek).
*** Find out more about the Cinekid Script LAB here.