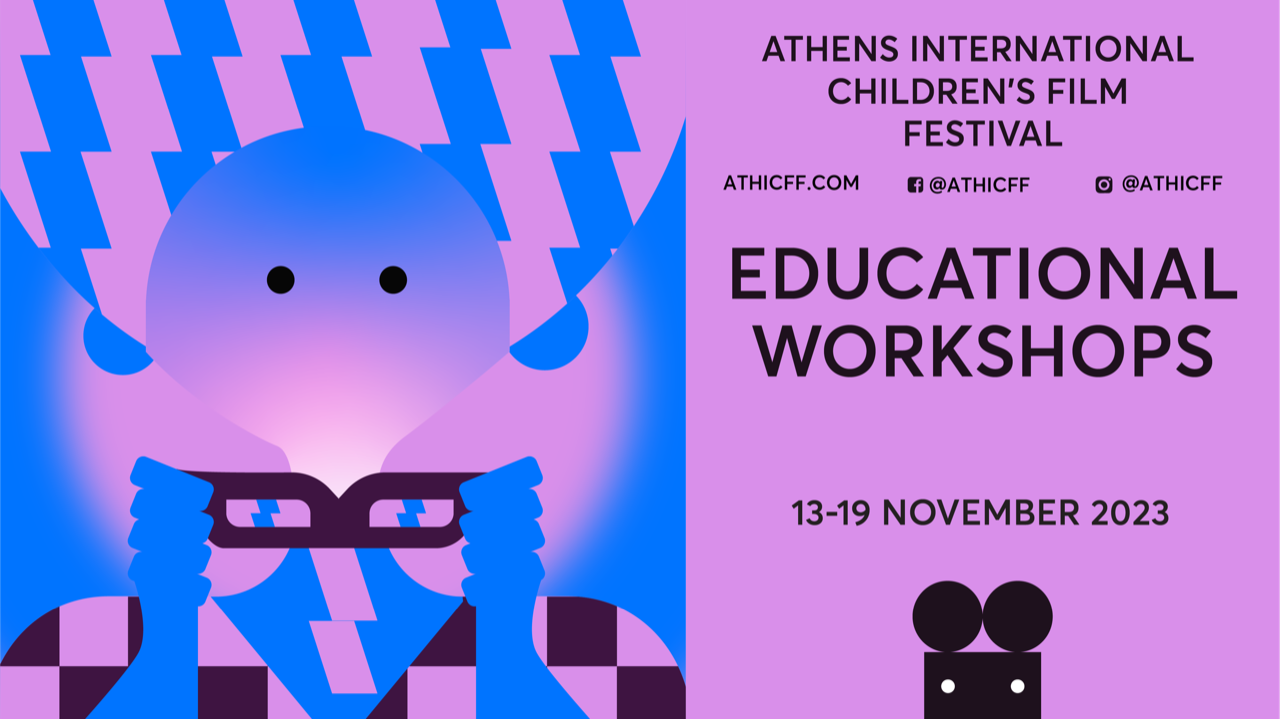 Academies for young cinephiles? Incubators for tomorrow's creators? The best-kept secret of cinematic Athens? However you phrase it, the Film Workshops for children and teenagers that we organize every year alongside the Festival screenings are the first to sell out!
So, this year, on November 18 & 19, apart from the Megaron The Athens Concert Hall, workshops will also be hosted at the Museum of Cycladic Art, Kifisia 1 & 2 Cinemax, and the Piraeus Municipal Theater.
Talking about cinema during the most tender – and formative – years (Cinemini on Tour for children aged 4-6), creating their first animation (How the Autosaurus Rex Moves for children aged 7-9), painting their own vase in the depths of the Museum of Cycladic Art (My Greatest Treasure, for children aged 8-12), crafting their own heroes (Bringing Paper to Life, for children aged 8-12), discussing – all together (What can I Expect in Adolescence? for children aged 9-12 and their parents), dubbing their own films (And Suddenly Everyone Speaks Greek… for children aged 10+), openly discussing consent (Saying YES for teenagers aged 13+), and gender stereotypes (Overtaking the Gender Perspective 13+).
Reserve a spot and allow the children to discover alongside esteemed Greek and foreign creators the most captivating aspects of cinematic art!
Here is a detailed overview of the Educational Workshops:
For ages 4-6 years | FILM WORKSHOP 'Cinemini on Tour' Info
For ages 7-9 years | ΑΝΙΜΑΤΙΟΝ WORKSHOP 'How the Autosaurus Rex Moves' Info
For ages 8-12 years | GUIDED TOUR AT THE MUSEUM OF CYCLADIC ART AND WORKSHOP 'My Greatest Treasure' Info
For ages 8-12 years | INTRODUCTION TO ANIMATION TECHNIQUE 'Bringing Paper to Life' Info
For ages 9-12 years | INTERACTIVE EDUCATIONAL WORKSHOP 'What can I Expect in Adolescence?' Info
For ages 10+ | INTERACTIVE EDUCATIONAL WORKSHOP ON TRANSLATION 'And Suddenly Everyone Speaks Greek…' Info
For ages 11+ | HIP HOP WORKSHOP 'Let's Dance' Info
For ages 13+ | INTERACTIVE EDUCATIONAL WORKSHOP 'Saying YES' Info
For ages 13+ | INTERACTIVE EDUCATIONAL WORKSHOP 'Overtaking the Gender Perspective' Info